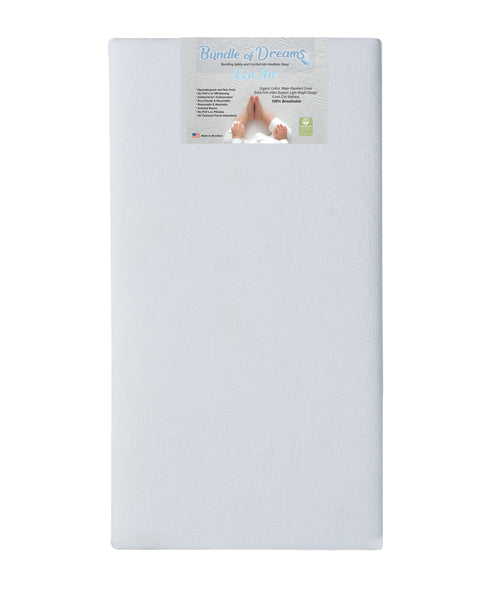 5" Firm Eco-Air
The 5 Inch Firm Eco-Air Crib Mattress has an Organic Cotton, water repellent, removable & machine washable.  This 100% Breathable mattress not only helps regulate temperature by allowing air to pass through the entire mattress, but there are no harmful VOC's, off-gassing (that chemical smell when you open a mattress with foam), and no toxic emissions.  It's designed for firm infant support.  All materials used are eco-friendly, hypoallergenic, and breathable.  This mattress is GreenGuard Gold Certified.
Certified Organic Cotton cover
Water Repellent 
100% Breathable and Non-Toxic
Bundle Fiber with Memory Technology
Firm Infant Support
Zero Harmful Emissions, VOC's, or off-gassing
No Foam
Hypoallergenic & Recyclable
No chemical flame retardants
Cover is machine washable
Greenguard Gold Certified
0

counterx1 crib-blocktrue
Dual Firmness
1

counterx2 crib-blockfalse
100% Breathable
2

counterx3 crib-blockfalse
Hypoallergenic
3
counterx4 crib-blockfalse
Water Repellent
For Your Peace of Mind
Your mattress includes all of the features for your child's health and comfort. Your purchase includes everything you need to buy worry-free.
120 day Guarantee
It's easy to guarantee the best crib mattress available. We're confident you will love it.
Lifetime warranty
We are proud to stand behind our craftsmanship.
Free shipping
Delivered fast, and at our expense!